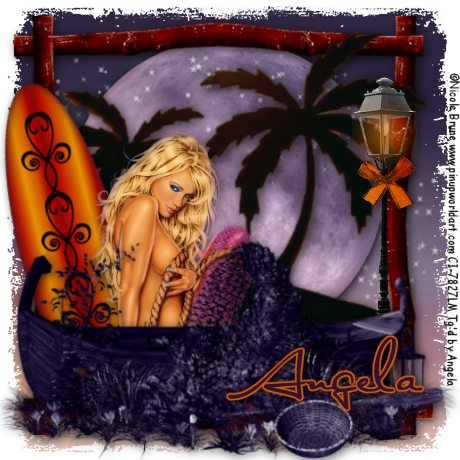 This tutorial was written for those who have a working knowledge of PSP. Any similarity to another tutorial is purely coincidental.
:Supplies Needed:
PSP X3 but any version will work
Plug-in Xero-Porcelain found here
PTU Sunset Summer by Sinfully Creative Scraps by Crys found here
Tube of choice I am using Nicole Brune and you need a license for her work found here
Mask of choice I am using Mask WSL-345 found here
Font of choice I am using AL Sandra
Add Drop Shadow as you go with your settings at 2, 2, 65, 15
Let's Begin!
Open up a new image I like to use a tagger size of 460 x 460
Then open up Paper 9 and right click copy, right click paste as new layer, then add your mask, invert your mask
Then open frame 1 and right click, copy, right click paste as new layer, re size to your liking
Then open the moon2 element and right click copy, right click paste as new layer. Then go to Effects-Plug ins- Porcelain and have your settings set at this:
Open up twinkles2 and right click copy, right click paste as new layer on top of the moon layer
Then open up palm tree silhouette, right click copy, right click paste as new layer
Then open up Surf board and right click copy, right click paste as new layer
then open up the Lamp Post and right click copy, right click paste as new layer
Open up your tube of choice and right click copy, then right click paste as new layer, then go to Effects-Plug ins-Porcelain and have your settings set like this:
Now open up the Boat element and right click copy, then right click paste as new layer
Add your name and copyright info