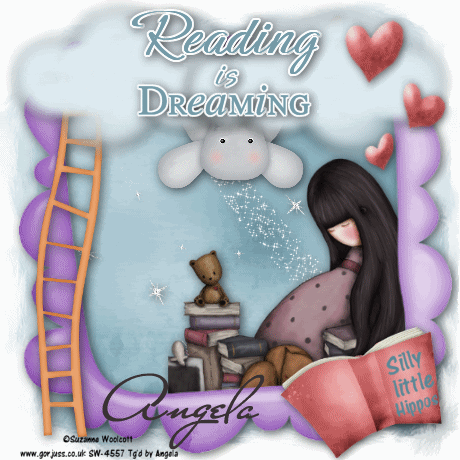 This tutorial was written for those who have a working knowledge of PSP. Any similarity to another tutorial is purely coincidental.
:Supplies Needed:
PSP X3 but any version will work
Animation Shop
PTU scrap kit, Silly Little Hippos by Creative Scraps by Crys found here
Mask 211 by Insatiable Dreams found here
Tube of choice I am using Gorjuss by Suzanne Woolcott and you need a license to use her work found here
Fonts used are Ephesus, Will&Grace, Miss Stanfort and Cena
Add Drop Shadow as you go with your settings at 2, 2, 65, 15
Let's Begin!
Open up a new image I like to use a tagger size of 460 x 460
Open up frame 3 right click, copy, close, right click paste as new layer, then with your magic wand click inside the frame then go to Selections-Modify-Expand by 8 then open up paper 17 and right click copy, close, then right click paste as new layer, then go to Selections-Invert-hit delete on your keyboard and then go to Selections-Select None (deselect) Your paper should now be inside the frame.
Now open up your tube and place inside the frame but above the paper. (See example above) position her to the right of the frame.
Then open up the book element and then choose the font, Cena, size 8 or 9, then type whatever you want the title of your book to be, I chose the words, Silly Little Hippo, which is the name of the kit I am using, merge visible.
making sure you copy and paste each element as a new layer
Now open up the pink hippo and then paste as new layer now open the wing and place on the back of the hippo, resize the wing to your liking then duplicate the wing and then go to Image-Mirror, merge visible, open the gray hippo and do the same thing with the wings, merge visible. Move the pink hippo behind the book, making sure the hippo cannot be seen, so you may need to resize, then move the gray hippo under the 2 clouds above, coming about halfway out of the cloud
Now open up paper 17 again and add to your bottom layer but above your white raster layer and then add your mask.
Now add your name and copyright info
:Animation Shop:
Back in PSP right click, copy merged and paste into animation shop as new animation. Then go back to PSP and move the gray hippo a little down from the clouds, and move the pink hippo up a little through the book, copy merged and then paste into AS after current frame.
Then go back to PSP and move each hippo again a little bit then copy merged and paste after current frame, keep repeating these steps for about 11 frames moving each hippo a little at each time. Then for the 12th frame close off the hippo layers in PSP, then copy merge, paste after current frame and change the frame propertie to 150, and change frames 1-11 properties to 15
I hope you enjoyed my tut!