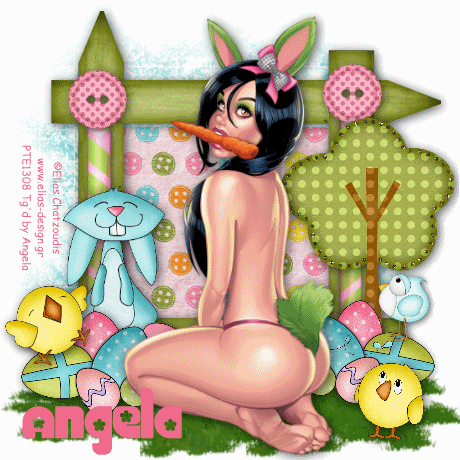 This tutorial was written for those who have a working knowledge of PSP. Any similarity to another tutorial is purely coincidental.
:Supplies Needed:
PSP X3 but any version will work
Animation Shop
PTU kit Easter Parade by Sweet Cravings Scraps by Kara found here
Tube of choice I am using Elias Chatzoudis and you need a license to use his work and can be found here
Mask of choice I am using Mask WSL-84 by Weescotslass found here
Font of choice I am using Chick
Add Drop Shadow as you go with your settings at 2, 2, 65, 15
Let's Begin!
Open up a new image I like to use a tagger size of 460 x 460
Open up frame 7 and right click, copy and paste as new layer. Resize to your liking, by using your pick tool and grabbing one of the corners in till you get to the size you want. Then using your magic wand, click inside the frame, then go to Selections-Modify-Expand by 8 and then open up a paper of your choice, right click, copy and paste your paper as a new layer and place it below the frame, then go to Selections-Invert-Delete-Selections-Select None (deselect) your paper should now be inside the frame.
Now open up any elements you want just making sure you copy and paste each element as a new layer. Make sure you drop shadow as you go.
To use the grass that I used go to your tubes that came with your program. This is what mine looks like. Find the grass you want and click on it.
Place the grass on your bottom layer but above your white raster layer. Duplicate 3 times for a total of 4, and move them where you want them.
Now open your tube of choice and place her where I have mine.
Open up another paper of choice I used paper 14, and right click, copy and paste as new layer, right above your white raster layer, then go to Layers-Load/Save Mask-Load Mask from Disk. Find your mask that you want and click Load
Add your name and copyright info and you are done. If you want to animate your tag please follow below to the rest of the tut.
:Animation Shop:
Back in PSP click your Warp tool, then make your brush size the size of her cheek, I had mine at 110 for her cheek, and 20 for her nose. Then click either right twirl, or left twirl,
then click one time on her cheek and one time on her nose. Copy merged paste as new animation in AS.
Go back to PSP and repeat these steps one more time. Copy merged and paste after current frame in AS