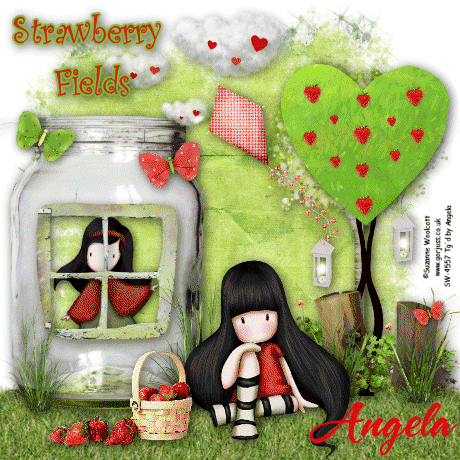 This tutorial was written for those who have a working knowledge of PSP. Any similarity to another tutorial is purely coincidental.


:Supplies Needed:
PSP X3 but any version will work
Animation Shop
PTU kit Strawberry Fields by Gina's Gems Scraps found here
Tube of choice I am using the artwork of Suzanne Gorjuss and you need a license for her work which can be found here
Mask of choice I am using mask16 by Gems Masks found here
Add Drop Shadow as you go with your settings at 2, 2, 65, 15
Let's Begin!
Open up a new image I like to use a tagger size of 460 x 460
Now with your picture tube tool, find your grass tubes (these tubes come with your PSP program. Mine looks like this
What I've circled in red is what the tube tool looks like then when you click on presets in the upper left hand corner these tubes will show up. Then right click until you find the right grass you want for your tag. Duplicate and then go to Image-Mirror
Open up frame 4 and right click, copy and paste as new layer. Using your pick tool size it down to the size you are comfortable with.
Then add any of the elements you want, the kit has many and they are all wonderful. Just make sure you copy and paste each a new layer.
Open up paper 25 right click, copy and paste as new layer. Then add your mask, then invert your mask. To add your mask go to Layers-Load/Save Mask-Load mask from disc. This window will pop up
Then click on the mask on the left and this window will pop up
Then go through your masks until you find the one you want to use. Click it and it will load the mask on your paper layer.
So for the text Strawberry Fields if you want to give it a border this is how you will do that. Type out your words, then go to Selections-Select All-Float-Defloat-Modify-Expand by 2. Then on your layers palette the layer below your text right click add new raster layer, then using your flood fill, fill in around the letters. Then go to Selections-Select None.
Add your name and copyright info.
Follow on to the rest of the tut if you want to animate the kite.
:Animation Shop:
Back in PSP close off all layers, except for the kite layer, and then right click, copy merged, then paste into animation shop as new animation. Then go to Effects-Insert Image Effect- and then have your settings for the kite set at this:
Then click customize and have your settings set at this
Click okay and you will have 6 frames, highlight all frames by holding down the ctrl key +A, then right click, frame properties to 25, minimize for now.
Then go back to PSP and close off the kite layer and open up ALL of the other layers, right click copy merged and paste into animation shop as new animation, then right click, copy then right click, paste after current frame, keep copying and pasting until you have a total of 6 frames, select all frames by holding down the ctrl key +A, then minimize for now, open up the kite animation, all frames should still be highlighted, then right click copy, then paste it on your tag.
I hope you enjoyed this tut!