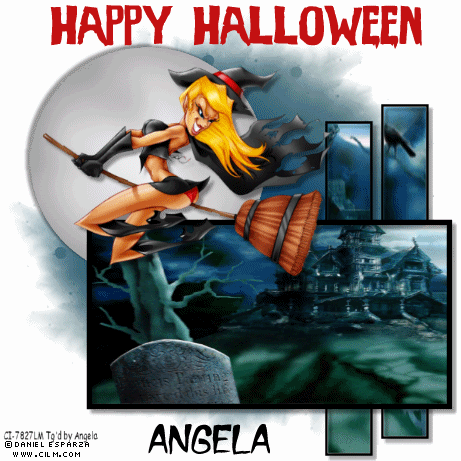 This tutorial was written for those who have a working knowledge of PSP. Any similarity to another tutorial is purely coincidental.
Tube of choice I am using Daniel Esparza and you need a license to use his work which you can find here
Background pic any haunted house pic you have will do
Drop shadow on each element settings at 4, 4, 40, and 4.0 color black
Font I used Evil of Frankenstein
Animation Shop
Open up a new layer size of your choice
Using your Rectangle tool making sure your foreground is set to the color black and the fill is closed your rectangle width settings should be at 6, draw out a large rectangle frame, convert to raster, position where you would like it.
Using your rectangle tool again draw out 2 rectangle frames, convert to raster, move them both to the right side of the large frame and below it, look at my example in my tag. Now copy and paste your haunted house pic as new layer, then go back to the large frame and Select All, Float, Defloat, modify, expand by 3. Then on your haunted house layer invert, delete. Making sure the haunted house pic is below the rectangle frame you made.
Do the same with the 2 frames on the side just place your haunted house pic where you want it on the 2 frames
Now use your eclipse tool and draw out a circle for the moon, convert to raster. Select All, float, defloat, flood fill with a color of your choice I did a gray, deselect
Copy and paste your tube in front of the moon
On the bottom layer make a gradient with 3 colors from your haunted house pic with your settings at Angle 36 and repeat at 1, flood fill your layer, add mask
Add your font I did Happy Halloween, name and copyright info
If you want to animate please continue on below to Animation Shop
Go back to PSP and right click, copy merged, and paste as new animation in Animation shop
Go back to PSP and move your witch down a little bit, copy merged, and paste into animation shop after current layer, go back to PSP and move your witch a little further down, copy merged, paste after current layer, bakc to PSP move the witch up a little, copy merged, paste after current layer, move her up again and repeat until you are happy with your animation.
When I was done I had 6 frames, I set my frame properties at 18 but you can set it to whatever you would like.