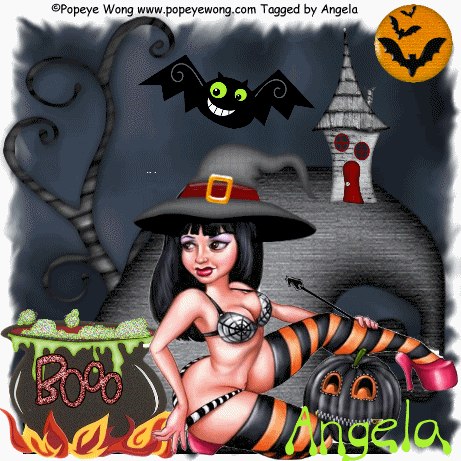 A super cute tutorial for you!
This tutorial was written for those who have a working knowledge of PSP. Any similarity to another tutorial is purely coincidental.
PSP X3 but any version will work and Animation Shop
Tube of choice I am using the artwork of Popeye Wong found here
Scrap kit is Frightfully Cute by Sinfully Creative Scraps by Crys found here
Background pic I used a cloud pic
Add Drop Shadow as you go with your settings at 2, 2, 65, 15
Open up a new image any size you like. Flood fill white
Open up your tube and copy and paste and position in the center.
Open up the witch hat and place on her head, with your eraser tool and your witch hat highlighted, erase the part in the front of the hat so it looks like she is wearing it
Open up elements, hill, tree, moon with bats, single bat and cauldron. Position where I have mine.
Add your background pic , and for the edge smudged look go to go to Image, Picture Frame and choose rectangle edge smudge
add name and copyright info
If you do not want to animate you are done.
Otherwise follow down to the rest of the tut in animation shop
Go back to PSP and duplicate the single bat and close visibility on the 1st bat. You will use your smudge brush on the copy and your settings set as; shape circle, size 6, hardness 60, Step 10, Density 100, Thickness 100, and Rotation 0 Now move your brush from the black part of the bat down to his eye, keep smudging both eyes til they are halfway closed. Now close visibility on your duplicate and open up visibility on the original bat
Now on the cauldron using your Freehand tool put your settings at point to point, and select around the green bubbles on the cauldron, with the cauldron still highlighted, right click, copy merged and paste into animation shop as new animation. You should only have the green bubbles in animation shop
Insert Image Effect and choose Noise with your settings set to Effect length at 2 and frames per second at 4, click customize and set your Noise intensity 190 and opacity at 104. You should have 9 frames delete the 1st one and now you have 8.Minimize
Now go back to PSP deselect cauldron and copy merged your whole tag and paste in animation shop as new animation and then go back and close visibility on the first bat and open visibility on the 2nd bat that you smudged, and copy merged, paste in animation shop after current frame. Go back in to PSP again and close visibility on the 2nd bat and open visibility on the first, copy merged, paste after current frame. Repeat this process switching the bats for a total of 8 frames. Select all frames
Then maximize your green bubble that you just animated with noise effect, select all and copy and paste into selection lining up the bubbles on the cauldron.
View animation and you are done!