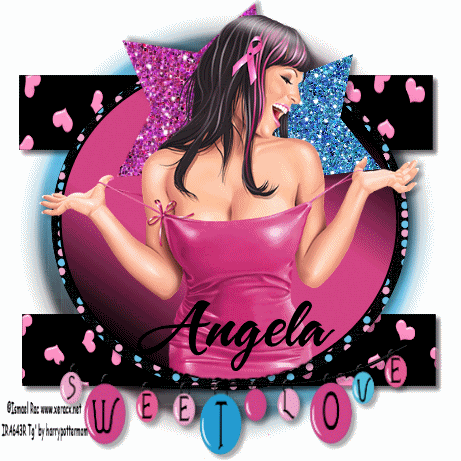 This tutorial was written for those who have a working knowledge of PSP.
Any similarity to another tutorial is purely coincidental.
Lacarolita FTU Scrap Kit Sweet_Love found here
Tube of choice I am using Ismael Rac, you need a license to use his work which can be found here
Your mask of choice, a round one is what I used
Font of your choice, I used A&S snapper Script
Drop shadow on each element settings at 4, 4, 40, and 4.0 color black
Open a new image in the size of 461x461 (or whatever size you like) Flood fill white
Now using your elipse tool making sure your stroke is open and fill is closed, you can use any color, I chose black. Draw a circle in the middle of your image. Then draw another circle under the first one and make it a little larger. Convert both circles to raster
Then using your rectangle tool draw out 2 rectangles behind the large circle you made and place each rectangle where I put mine in my tag. Convert both to raster.
Now on one rectangle Select All, Float, Defloat, flood fill with black. Do the same on the other rectangle. Then on the first rectangle, Select All, Float, Defloat, again and then copy and paste Sweet_Love Border 1, invert, delete and deselect. Do the same on the other rectangle.
Now on the larger circle Select All, Float, Defloat, and copy and paste paper 3, invert, delete, deselect.
Now for the smaller circle in front make a gradient with 2 colors from your tube. I chose pink and black for this tube. The gradient settings should be: angle at 36 and repeat at 1, invert selected. Select All, Float, Defloat, Flood Fill with your gradient
Place your tube under the first circle, duplicate, move that one to the top then erase parts of the tube that are sticking out. Apply any elements you would like.
On your bottom layer make a gradient again 2 colors of your choice same settings as above. Flood fill; then apply mask.
Use element Sweet_Love lanterns, place as the top layer below your tube
If you want to animate your tag follow the rest of the tut
Duplicate lantern 2x, you should have 3, and rename each one, now close up the original element and the third one. On the second duplicate, with your free hand selection tool, (setting on free hand), select around every other lantern. To do more than one selection hold down your shift key. Then go to Adjust, Brightness and Contrast, Brightness/Contrast settings on Brightness 40, Contrast 0. Deselect. Keeping the original lantern closed, close 2nd lantern duplicate and open up your third lantern duplicate. Using your free hand selection tool again, repeat the same process but on the other lanterns you did not do on the 2nd duplicate.
Apply your name and copyright info
Open your first lantern and close up your second and third lantern. Copy merged and paste into animation shop as new animation. Go back to PSP and close up the first lantern and open the second duplicate, copy merged and paste in animation shop after current layer. Go back into PSP again and close the second lantern and open up the third lantern and copy merged again and paste into animation shop after current layer. Select All frames you should have 3 and change frame properties to the speed you would like your lanterns.View your animation!
That's it! I hope you liked my tutorial!