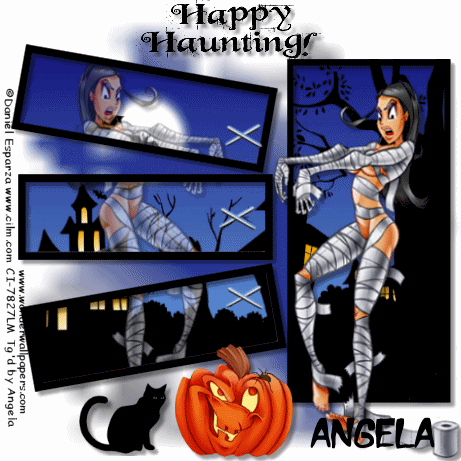 This tutorial was written for those who have a working knowledge of PSP. Any similarity to another tutorial is purely coincidental.
Template by HorsePlaysPasture found here
Haunted House photo I got from wonder wallpapers found here
Tube of choice I'm using Daniel Esparza, you need a license to use his work found here
Font of choice I'm using Treasure
Mask of choice I am using Insatiable Dreams mask 19 found here
Drop shadow at 4, 4, 40, and 4.0 color black
Open up template and duplicate, Shift+D Close out the original. Delete copyright info You can crop and resize later.
On the large rectangle on the right draw a rectangle border using your Rectangle tool, width setting at 7 and making sure the foreground is black and fill is closed. Convert to raster
Close out all your layers except the 3 rectangles and the large rectangle on the right.Merge visible. Rename first merge.Then close out everything again except the 3 rectangles frames and merge visible, rename merge 2. Open all layers
On your first merge Select All, Float, Defloat, and copy and paste your haunted house pic into the selection, invert, delete, deselect. Duplicate, close duplicate (You will need the duplicate later when animating)
Open your tube and using your freehand selection tool select around the pumpkin, copy, minimize your tube (you'll come back to it later) and paste as new layer and arrange it next to the cat, duplicate, close duplication (you will come back to it when animating) Then maximize your tube again and using the freehand selection tool select around the tube, copy and paste your tube onto the large rectangle on the right,
Then on your first merge, Select All, Float Defloat, copy and paste your tube into selection, invert, delete, deselect. Lower opacity to 60
Now for the mask you will flood fill using 3 colors from your tube making a gradient with angles set at 36 and repeat at 1, invert checked. Make a new raster layer and flood fill with gradient, apply mask
Add name and copyright info. If you would like to animate your tag please follow the rest of the tut
In PSP close the original first merge and the original pumpkin. Open the duplicate first merge and duplicate pumpkin. And using your Freehand Selection Tool select around the pumpkin face and the lights on the haunted house, to select more than one area at a time hold down the shift key. Then go to Adjust, Brightness and Contrast, Brightness/Contrast with the settings at
Brightness 40 Contrast 0. Close both duplicates and open both originals.
Copy merge and paste in animation shop as new animation. Go back to PSP again and close out both originals and open up the duplicates, copy merged and paste into animation shop after current frame. Change frame settings to 15 view animation and your done!
Hope you enjoyed my tutorial!